We all know the feeling of walking into a hotel room and being instantly relaxed by the luxurious atmosphere. One of the key elements of this experience is undoubtedly the bedding. From silky smooth sheets to plush pillows, hotels seem to have a knack for creating the perfect sleep environment. But what bedding do hotels use, and can you recreate this experience in your own bedroom? In this article, we'll explore the secrets to hotel bedding and how you can enjoy the same experience at home.
Thread Count Matters
Thread count is one of the most well-known factors when it comes to bedding quality. This refers to the number of individual threads woven into a square inch of fabric. Hotels typically use a higher thread count on their bedding to create a softer, more luxurious feel. Most hotel bedding falls within the range of 300-500 thread count, so keep this in mind when shopping for your own bedding.
Invest in High-Quality Fabric
The material of your bedding also plays a significant role in its overall quality. Many hotels use Egyptian cotton, which is known for its silky smooth texture and breathability. However, other materials such as bamboo rayon and microfiber can also provide a similar level of comfort without the high price tag. When shopping for bedding, focus on materials that are soft and breathable to ensure a comfortable night's sleep.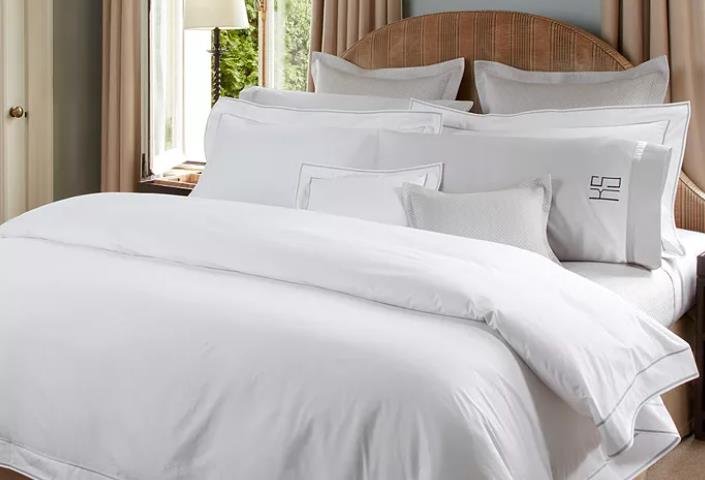 Choose the Right Pillows
Pillows are often the unsung heroes of a comfortable sleep experience. Hotels typically use a down or down alternative pillow with a medium firmness to create the perfect balance between support and comfort. However, these types of pillows can be expensive, so it's worth trying out different options to find what works best for you. Additionally, adding a few decorative pillows to your bed can help create a more polished, hotel-like look.
Don't Skimp on the Duvet
Hotels often use a duvet insert inside a duvet cover to create a fluffy, cloud-like bed that you can sink into. To replicate this effect at home, invest in a high-quality duvet insert that's filled with down or a down alternative. Additionally, choosing a duvet cover that's soft and breathable can help enhance your sleeping experience.
Pay Attention to the Details
Finally, it's the little things that can make a big difference when it comes to recreating a hotel-like sleep experience. Hotels often use white bedding to create a clean, fresh look that exudes luxury. Additionally, paying attention to details like mattress toppers, bed skirts, and matching sheet sets can help create a cohesive, polished look.
Other Factors to Consider
While bedding is a crucial aspect when it comes to creating a luxurious sleeping experience, there are other factors to consider as well. For example, many hotels use blackout curtains to block out unwanted light and noise-cancelling machines to create a peaceful environment. Additionally, investing in a high-quality mattress and pillow protectors can help extend the life of your bedding while also giving you peace of mind.
Conclusion
Now that you know the secrets to hotel bedding, you can create a luxurious sleep experience in your own bedroom. Remember to focus on thread count and high-quality materials, invest in a quality duvet and pillows, and pay attention to the details. With a little effort and the right bedding, you'll be able to enjoy a restful night's sleep that rivals any five-star hotel.
FAQs
1. What type of bedding materials do hotels typically use for a luxurious sleep experience?
Hotels often use high-quality materials such as Egyptian or Pima cotton with a high thread count (usually above 300) for their bed linens, ensuring a soft and comfortable feel. They also opt for down or down-alternative duvets and pillows to provide plush, cloud-like comfort.
2. Why do hotel beds feel so comfortable compared to regular home bedding?
Hotels invest in premium quality mattresses, bed linens, and pillows to provide an exceptional sleep experience for their guests. They also follow strict maintenance routines, regularly replacing and laundering bedding to ensure maximum cleanliness and comfort.
3. How can I recreate the luxurious hotel bedding experience at home?
To mimic the hotel bedding experience, invest in high-quality bedding materials such as high-thread-count sheets, down or down-alternative duvets and pillows, and a comfortable mattress. Regularly launder your linens and maintain a clean, clutter-free bedroom environment to enhance your sleep experience.
4. Are there specific brands that hotels use for their bedding that I can purchase for my home?
Many luxury hotels source their bedding from reputable brands such as Frette, Sferra, and Matouk. Some hotel chains, like Marriott and Westin, even offer their exclusive bedding collections for purchase through their websites or retail partners.
5. Does luxurious hotel bedding require special care or maintenance?
High-quality bedding may require specific care instructions, such as using mild detergents, washing in cold water, or air-drying to maintain the fabric's softness and durability. Always follow the manufacturer's care instructions to prolong the lifespan of your luxury bedding.