Arab eye makeup is a style that has taken the beauty industry by storm. It is a style that originated in Arab countries and has been modified in various ways to suit the taste of different people around the world. This style is characterized by bold, smoky eyes, and thick, defined eyebrows. The Arab eye makeup is not only beautiful, but it can also be worn for any occasion, be it casual or formal. Unfortunately, the bold and daring look of Arab eye makeup can be intimidating and challenging to replicate. Don't worry, in this article, we will show you how to achieve the perfect Arab eye makeup look.
Prepping Your Eyes
Before applying any makeup, it's essential to prepare your eyes to withstand the makeup application process. Firstly, remove any traces of old makeup with a makeup remover, then clean your eyes with a gentle cleanser. Moisturize the eye area, especially if you have dry skin. Use a primer to create a smooth base for the eye makeup application. A primer also helps the makeup last longer and prevents creasing.
Eyebrows
Your eyebrows frame your face, and it's crucial to have them well defined when applying Arab eye makeup. Choose a brow pencil or a brow powder that matches your eyebrow color. Use a spoolie brush to brush your eyebrows upwards, then fill any gaps with the pencil or powder, focusing on the arch and tail of your brow. Use a concealer to clean the edges by lining the bottom and top of your eyebrows.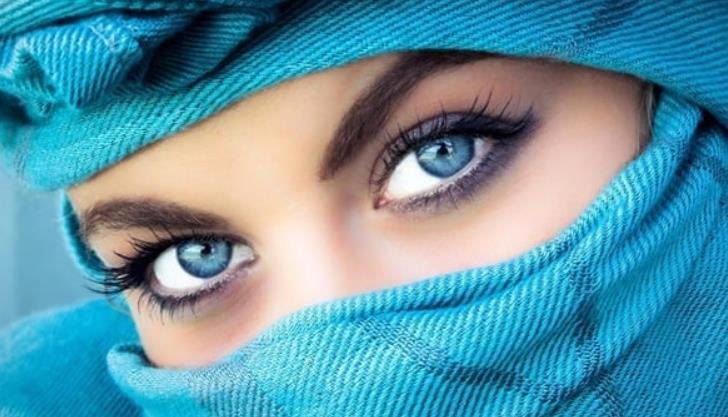 Applying Eye Shadow
Arab eye makeup features a lot of colors, but it's essential to choose one that matches your skin tone and eye color. Start by applying a light, neutral color from the lash line to your brow bone. Then, choose a medium shade and apply it on the crease of your eye. Finally, add a darker shade on the outer corner of your eye and blend outwards to create a gradient effect. Use a white or light shade on the inner corners of your eyes to make your eyes look brighter.
Eyeliner
Eyeliner is a staple in Arab eye makeup. For a bold look, use a black or dark brown eyeliner that matches your eye color. Start by lining your upper eyelid with a thin line, then work outwards to create a wing. For a dramatic effect, extend your wing past the end of your eye. You can also line your lower lash line, but ensure that it's not as heavy as the upper lash line.
False Lashes
False lashes are optional, but they add a touch of glam to your Arab eye makeup. Choose lashes that fit the shape of your eye, and apply them as close to the lash line as possible. Apply glue to the back of the lash strip, then position it above your natural lashes. Wait for the glue to dry before applying mascara to blend your natural and false lashes.
Other Tips
Use a setting spray to make your makeup last longer.
Use a white or nude liner on your lower waterline to make your eyes look bigger.
Experiment with different color palettes to find what works best for you.
Use an angled brush to apply eyeshadow as eyeliner to create different effects.
Remove makeup before going to bed to prevent eye irritation and breakouts.
Conclusion
With these tips, you'll be able to achieve the perfect Arab eye makeup look. Remember, practice makes perfect, and you might have to experiment with different colors and products to find what works best for you. Don't be discouraged if you don't get it right the first time, and keep trying until you achieve the perfect Arab eye makeup look.
FAQs
1. What are the key elements of Arab eye makeup?
Arab eye makeup is known for its dramatic and bold look, often featuring strong color contrasts, heavy eyeliner, and a focus on accentuating the eyes. Some key elements include:
Dark, thick eyeliner: Usually black or dark brown, applied generously to both upper and lower lash lines.
Smoky eye effect: Achieved by blending darker eyeshadow shades with lighter ones, creating a gradient effect.
Highlighting the inner corners: Using a shimmery or light-colored eyeshadow to brighten the inner corners of the eyes.
Emphasizing the crease: Applying a darker shade of eyeshadow to the crease of the eyelids to create depth and dimension.
Bold lashes: Using mascara or false eyelashes to add volume and length, making the eyes appear larger and more dramatic.
2. What tools and products do I need to achieve the perfect Arab eye makeup look?
To create a stunning Arab eye makeup look, you will need the following tools and products:
Eyeshadow primer
Eyeshadow palette with a range of shades (including matte and shimmery options)
Black or dark brown eyeliner (pencil, gel, or liquid)
Mascara
Eyelash curler
False eyelashes (optional)
Eyeshadow brushes (including a blending brush and a small, angled brush)
3. How do I choose the right eyeshadow colors for my skin tone and eye color?
When selecting eyeshadow shades for your Arab eye makeup look, consider both your skin tone and eye color. For example:
For lighter skin tones, opt for warmer shades such as gold, bronze, and copper.
For medium skin tones, choose shades like olive green, warm brown, and burgundy.
For darker skin tones, go for rich jewel tones like purple, emerald green, and deep blue.
Also, consider your eye color:
For brown eyes, try shades of blue, green, or purple to create contrast.
For blue eyes, opt for warm shades like gold, copper, and orange.
For green eyes, go for colors like plum, burgundy, and brown.
4. How can I make my Arab eye makeup last all day?
To ensure your Arab eye makeup stays in place throughout the day, follow these tips:
Start with an eyeshadow primer to create a smooth base and help the eyeshadows adhere better.
Choose high-quality, long-lasting eyeshadow formulas.
Use waterproof eyeliner and mascara to prevent smudging and smearing.
Set your makeup with a setting spray to lock it in place.
5. Can I wear Arab eye makeup for everyday occasions, or is it only suitable for special events?
While Arab eye makeup is often associated with dramatic and bold looks, you can certainly adapt it for everyday wear. To create a more subtle version, try using lighter eyeshadow shades, applying less eyeliner, or skipping the false lashes. The key is to find a balance that works for you and the occasion while still showcasing the beautiful elements of Arab eye makeup.