Lip gloss is one of the most versatile beauty products that can enhance your overall look. A perfect application of lip gloss can add shine, moisture, and dimension to your lips, giving you a refreshing and glowing look. But the idea of applying lip gloss can be daunting for many, and the process might seem tricky. That is why we have created this step-by-step guide that will teach you how to put on lip gloss flawlessly and make it stay all day long.
Prepare your Lips
To achieve an optimal lip gloss finish, prepping your lips is crucial. Start by exfoliating your lips using a gentle scrub to smoothen your pouts' texture. Next, apply a lip balm to nourish your lips and protect them from drying out. Allow the balm to absorb for a few minutes before applying your lip gloss. Avoid using a matte lipstick underneath as it can make your lips dry and cause the lip gloss to clump together.
Choose the Right Shade
Choosing the right shade of lip gloss can make a significant difference in your overall look. For a natural look, opt for nude or neutral shades, or a gloss that matches your lip color. If you want a more bold and dramatic look, choose brighter shades like pinks, reds, or purples. Consider the occasion, time, and outfit to help you choose the right shade of lip gloss.
Apply the Lip Gloss
Using the lip gloss applicator, apply the gloss starting from the center of your lips, then extend to the corners of your mouth. Use a light hand and add more layers gradually until you get the desired intensity. Avoid applying too much gloss at once or licking your lips as it can cause the gloss to wear off easily.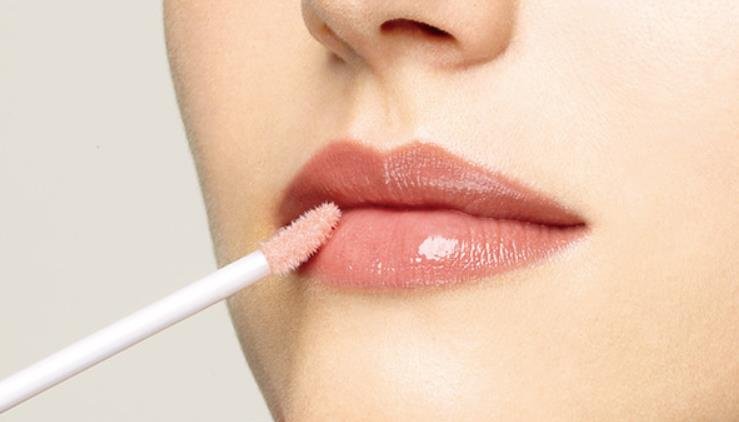 Blot Your Lips
After you have applied the lip gloss, blot your lips gently using a tissue. This will get rid of the excess gloss and help the gloss set in place. Repeat the process by applying another layer of lip gloss and blotting until you reach your desired look. If you prefer a more natural look, just apply one layer of lip gloss.
Fix the Smudges
Sometimes lip gloss can smudge around your mouth, making your look messy. To fix it, use a cotton swab or a clean brush dipped in translucent powder and run it along the edges of your lips. This will help keep the lip gloss in place, prevent it from smudging, and prolong its wear.
Preserve Your Lips at All Times
To keep your lip gloss looking glossy all day, you need to take a few measures. Always carry your lip gloss with you, so when it wears off, you can reapply it quickly. Avoid touching your lips and eating greasy foods to prolong the wear of your lip gloss. You can also dust a little bit of powder over your lips, so it doesn't come off easily.
Conclusion
Learning how to put on lip gloss is quite easy and fun, and shouldn't intimidate you. Remember to prep your lips, choose the right shade, apply your gloss with a light hand, blot, fix the smudges, and preserve your lips at all times. A perfect application of lip gloss can make you look glamorous, confident, and refreshed. So, go ahead and give it a try, and let us know how it goes!
FAQs
1. What are the steps to perfectly apply lip gloss?
To perfectly apply lip gloss, follow these steps:
Exfoliate your lips: Gently remove dead skin cells using a lip scrub or a soft toothbrush.
Moisturize your lips: Apply a hydrating lip balm and let it absorb for a few minutes.
Apply lip liner (optional): Choose a color close to your natural lip shade or the gloss color and outline your lips to create a defined shape.
Apply the lip gloss: Start at the center of your bottom lip and glide the applicator outward. Repeat on your upper lip, following the natural curve of your lips.
Blot excess gloss (if needed): Press your lips together gently and use a tissue to remove any excess gloss to prevent smudging.
2. How do I choose the right lip gloss color for my skin tone?
Selecting the right lip gloss color depends on your skin's undertone (warm, cool, or neutral) and the desired look (natural or bold). For a natural look, choose a gloss close to your natural lip color or with a sheer finish. For a bolder look, opt for a more pigmented gloss that complements your skin's undertone.
3. Can I layer lip gloss over lipstick for added shine or dimension?
Yes, you can layer lip gloss over lipstick to add shine, dimension, or change the overall color effect. Apply the lipstick first, blot any excess, and then gently dab the gloss on top, focusing on the center of your lips for added fullness.
4. What should I do if my lip gloss feels too sticky or heavy?
If your lip gloss feels sticky or heavy, try applying a smaller amount or opting for a lighter, non-sticky formula. You can also blot your lips with a tissue after applying the gloss to remove excess product and minimize stickiness.
5. How can I make my lip gloss last longer throughout the day?
To help your lip gloss last longer, consider using a lip primer or applying a lip liner all over your lips before applying the gloss. This can create a base for the gloss to adhere to and help prevent it from fading or feathering. Additionally, avoid eating greasy foods and drinking from cups without straws, as these activities can cause lip gloss to wear off more quickly.